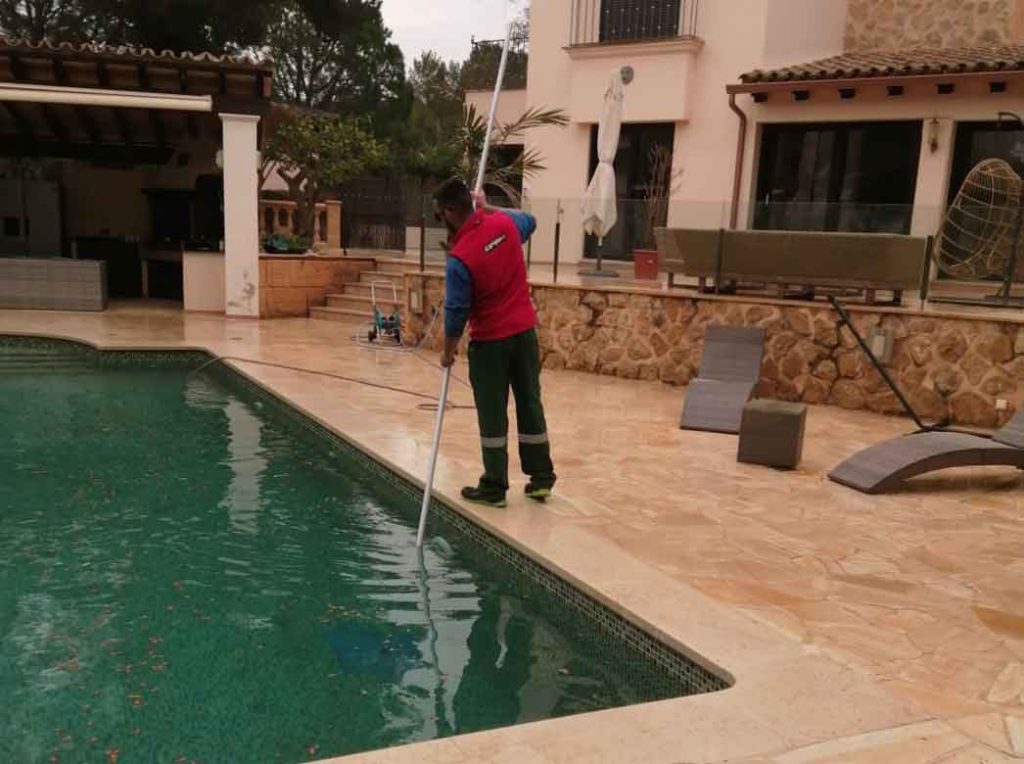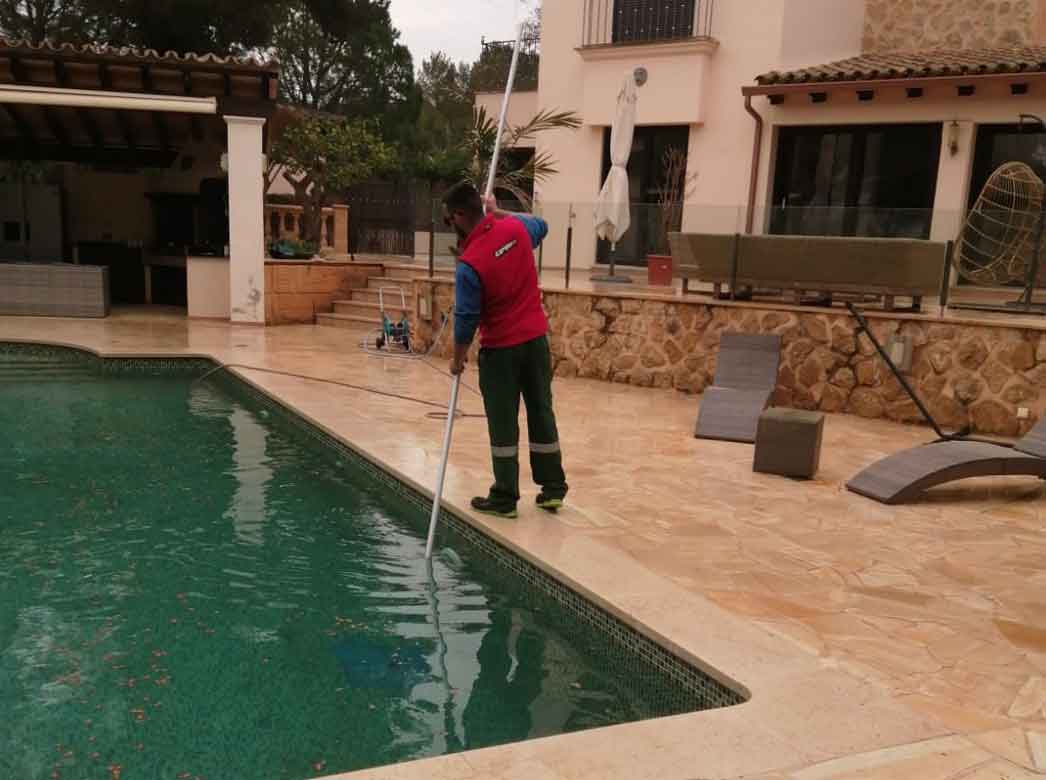 Swimming pools: Cleaning and swimming pool maintenance in Mallorca
Welcome to Alberto Perelló Jardins i Serveis. We offer comprehensive gardening services in Mallorca. We are a family gardening company specialising in pool cleaning-maintenance in Mallorca. We have been offering comprehensive pool cleaning and maintenance services to residents and companies all over the island for more than ten years. We have a portfolio of loyal customers who endorse our work and are our best letter of introduction ….
Cleaning and maintenance of swimming pools in Mallorca
Since our foundation we have been committed to offering a service of the highest quality. To do so, we are guided by the strictest standards in the sector. Our mission is to improve ourselves every day and to increase the skills and competences of our family, which is, in short, our team of professionals. Our goal is to become the first alternative for specialised services in the cleaning, disinfection and maintenance of swimming pools in Mallorca.
Pool cleaning in Mallorca: Water maintenance
Our main objective is to keep your pool in optimal conditions so that you and your family can enjoy crystal clear water all year round. We dedicate our best efforts to rigorous maintenance treatment and thorough periodic cleaning. Our team of specialists are trained to test and inspect the water quality, paying attention to eradicate any visible contaminants.
Pool maintenance in Mallorca
We have the best routine maintenance programme that guarantees the excellent condition of your pool or swimming pool during all seasons of the year. At Alberto Perelló Jardins i Serveis we offer a wide variety of services to guarantee the maintenance of swimming pools and their systems in perfect working order. We offer the following specialised pool cleaning and maintenance services (among others)…
– Testing of PH levels and acidity balance of the water…
– Application of required algaecides
– Reactive analysis and replenishment with chlorinated salts and/or disinfectants, as appropriate…
– Checking wear levels and updating of chemical register…
– Shock treatment for express disinfection and sanitisation…
Professional pool maintenance and cleaning services in Majorca
Once refurbished, reconditioned or already cleaned, a swimming pool is generally guaranteed to be in perfect working order all year round with water treatment and maintenance. But the care of the tiles and the care of its electrical systems are also vital to keep it in its optimum state. At Alberto Perelló Jardins i Serveis we have all the material conditions, tools and qualified personnel to guarantee all our clients a service that includes:
– Cleaning of the tiling (cleaning of tiles)…
– Cleaning of the bottom of the pool (vacuum cleaning)…
– Inspection of all electrical components (filters and drains, recirculation equipment, etc.)…
– Inspection of the pool cover, plugs and other components…
– Cleaning of the water surface and removal of leaves, insects and other dirt…
– PH measurement and maintenance…
Among others…
Professional Gardeners: Free pool cleaning and maintenance quote in Mallorca
We are a family business with Balearic origins. We consider safety and respect for the client's property to be our top priority and customer satisfaction our goal. Call and ask for a Mallorca pool cleaning and/or pool maintenance quote now!
Global gardening services in Mallorca
At Alberto Perelló Jardins i Serveis we plan everything your garden may need and present you with a work plan in which, depending on your needs, we could (among others): prune palm tree/s and/or hedge/s, prune or cut pine trees or other shrubs. It could also include the revision and/or maintenance of irrigation systems, recovery or implantation of new grass (natural or artificial). We also take care of the purchase of new specimens for reforestation, if necessary… as well as the recovery, disinfection; cleaning and disinfection of any instance or the control and eradication of pests (such as the red palm weevil or the pine processionary caterpillar). Similarly, our company offers property management services and general maintenance…