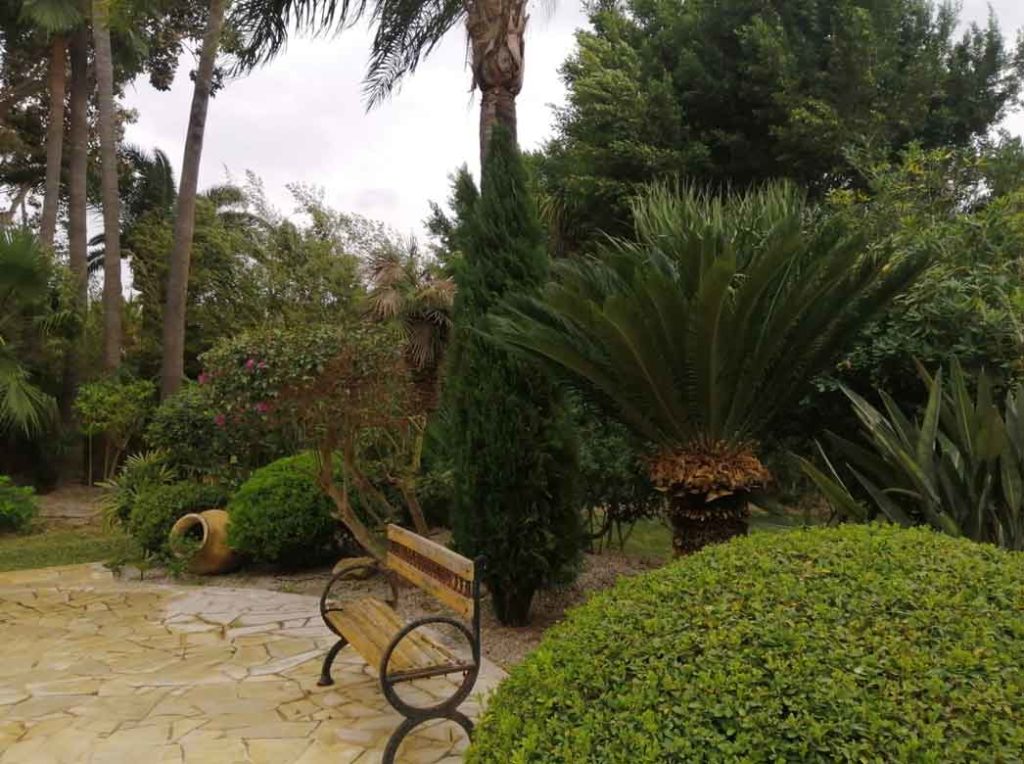 Garden design and maintenance in Mallorca
Over the years, our gardening company in Mallorca Alberto Perelló Jardins i Serveis has gained a very high reputation for providing professional garden design, rehabilitation and garden maintenance services (among others) of high quality and with all the guarantees. We offer each and every one of our clients a planned follow-up of the services they contract from us.
Global gardening services in Mallorca
We are a company specialised in the design and care of sustainable natural environments (large green areas: parks and squares…) and private and intimate spaces (patios and gardens). In other words, we work, indistinctly, for public entities and for the residential sector. We offer the best gardening services in Mallorca because our team of professional gardeners has extensive experience in the management of commercial and residential environments.
We are specialists in garden maintenance and personalised (bespoke) landscaping to meet the individual requirements of each garden and the most demanding tastes of our many clients.
Garden restoration, care and maintenance in Mallorca
The garden is a place to enjoy free time with family and friends. We spend a good part of our time in our garden, especially in summer; that is why the care and maintenance of our garden is of increasing concern to the general public. From Alberto Perelló Jardis i Serveis, we direct all our energies so that your natural surroundings always enjoy freshness and vitality with the maximum splendour.
Maintenance of gardens and residents' communities
Our company also offers garden care and maintenance services in neighbouring communities in Majorca and in private or public communal areas. Some of our most loyal clients are town halls, public entities and large neighbourhood communities who entrust us with the care and maintenance of their green areas and common areas, the maintenance of their swimming pools and the administration of their estates.
Ecological gardening in Mallorca with international standards
Our work is based on industry standards and the durability of the services we offer. A team of professional gardeners work with you to create or restore your dream garden at an affordable price. We guarantee that the project will be completed efficiently, on time and on budget. Call us and discuss your project with us; we will provide you with a quality service at every stage of the process of designing, restoring and then maintaining your garden.
Global gardening services in Mallorca
At Alberto Perelló Jardins i Serveis we plan everything your garden may need and present you with a work plan in which, depending on your needs, we could (among others): prune palm tree/s and/or hedge/s, prune or cut pine trees or other shrubs. It could also include the revision and/or maintenance of irrigation systems, recovery or implantation of new grass (natural or artificial). We also take care of the purchase of new specimens for reforestation, if necessary… as well as the recovery, disinfection and maintenance of swimming pools in Mallorca, cleaning and disinfection of any instance or the control and eradication of pests (such as the red palm weevil or the pine processionary caterpillar). Similarly, our company offers property management services and general maintenance…
Contact professional gardeners in Mallorca (Gardening Quote)
Contact us; we have the most competitive gardening quote on the market for you.